The City Adventurers recently enjoyed a few days in Coventry. Having had a few people recommend it, we decided to make the short walk to "Fargo" from the Cathedral. It was easy to spot the way, following the sign posts and doesn't take long to get there, although it is mainly uphill.
There may not have been a wood chipper in sight, but there were plenty of hair clippers on route. So many barbers were interspersed between the cafes and grocers.
We didn't realise at the time that we were making our way up Far Gosford Street, one of Coventry's most historic streets. It has fourteen listed buildings, plus a number of locally listed buildings of historic interest nearby. This conservation area has been restored and regenerated by Coventry council with funding from the European Regional Development Fund and the Heritage Lottery.
Fargo had been described as having a vibrant atmosphere, like Portobello Road. However, the area was not at all like we had been led to believe. We thought we must be missing something. Then, towards the top of the hill, we found the entrance to Fargo Village. This was the place we were searching for.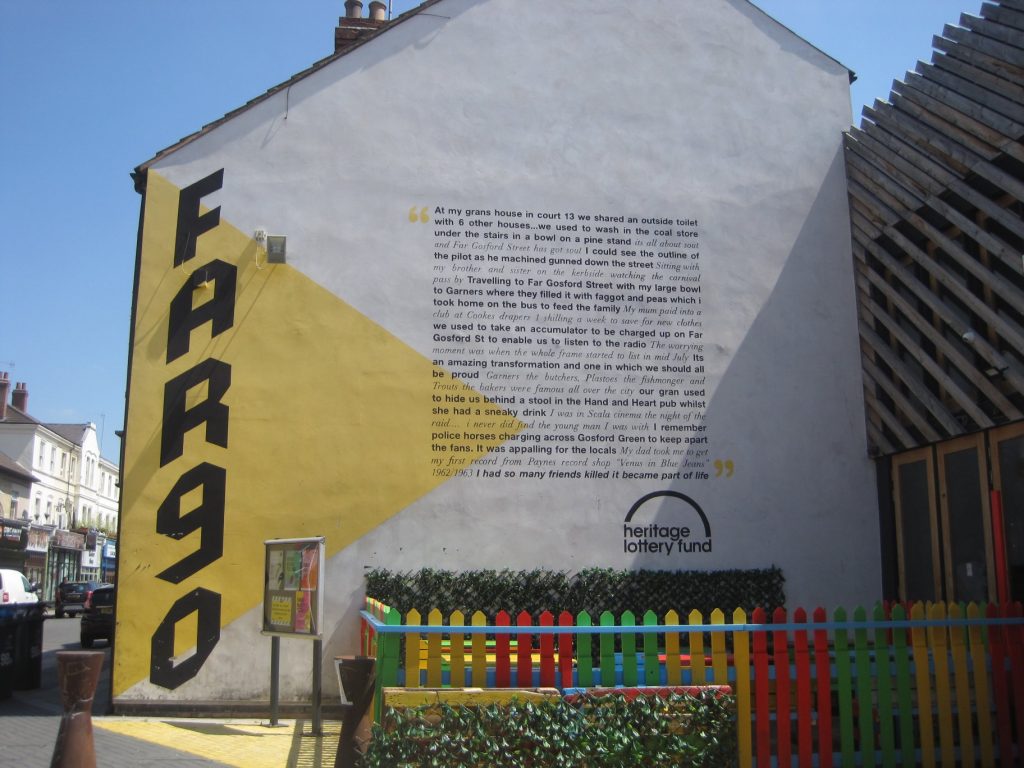 It is a shipping container village, like Pop Brixton or Boxpark Shoreditch. The artistically re-purposed space contains colourful, creative, independent businesses. There is an eclectic mix of retailers and artisan food. There is even a museum dedicated to Sgt Bilko and, you've guessed it, a retro style Barbers Shop.
We spent ages at Satyr Games, discussing numerous board games before settling on a new one. Then we visited Buddha boutique, a holistic hippy shop, selling everything from Incense to Mandalas and bought a smudging kit. We couldn't find the Escape Live escape room, but that's because it is at the Fargo Studios on Grafton Street, not in the village itself.
The village was fairly empty when we went, but I can imagine it gets lively at weekends. It's definitely somewhere to consider visiting while you are in Coventry.